We will try to briefly explain the influence of battery type in Electric unicycles.
There are mainly two types of cells on the market - High current, but lower capacity and High capacity and lower current.
And of course the balance between both types.
High current ones will deliver very good power, and you will have small voltage drop, but you will have smaller range overall. As range is one of the main characteristics customers compare, the manufacturers always choose the other option - Highest capacity ones, but at the expence of discharge current. So they can't supply the motor power - not with the recent power demands (Begode - all models, KS S18...).
And the result is ... easy overpower ... low range when riding fast ... short lasting batteries... increased chance of fire accident.

The other disapointment is they don't use the averaged (3.6) voltage of the battery to calculate the capacity in order to inflate their characteristics!
For example their RS/MSP/Nikola recent batteries are 4 Paralells 24 Series. So they take the 5000mAh (5Ah) capacity of LG tested in laboratory conditions, which shows total capacity when using only 0.5 - 1A discharge rate and until 2.5volts! In real conditions you will be draining above 5A per cell and Begode 0% is set at 3.3 volts, so you will never use the marked battery capacity.
Calculating the capacity according to Gotway is 5Ah x 4 cell= 20Ah x 90volts (huh?@?) = 1800Wh .... well ... nicely rounded number ...
The correctly calculated "laboratory" capacity of 5Ah cell is 5x4=20Ah x 86.4v = 1728Wh, but this is not the absolute capacity you will use!
Let's take a look at the charts below. We selected balanced cells that have smaller, but decent capacity and have great discharge current.
For your convenience we performed several Battery tests and compared how they perform to original LG M50T Begode cells:
5A Test per cell (RS pack is 24S 4P battery pack) So you get 20Amps current when one cell is drained with 5A: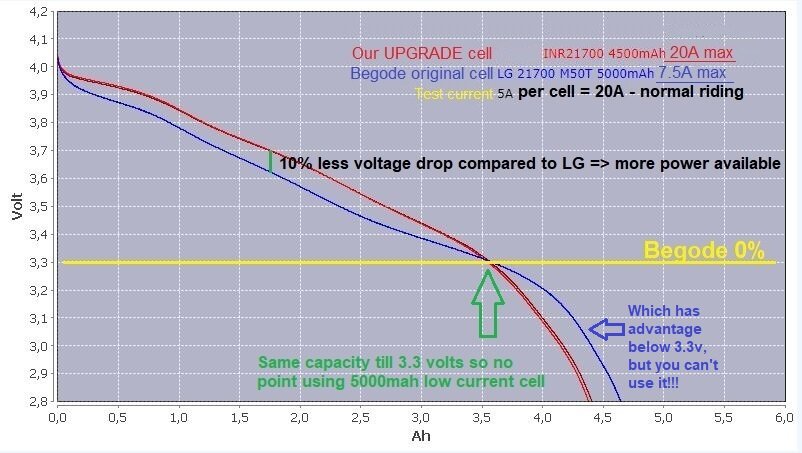 From the chart we see that Begode cells full capacity could be used only if you can get lower than 3,3v , which you can't do because the wheel won't let you ride it. This means that LG M50T cells has only 3.5Ah usable capacity => 3.5x4 Parallels => Begode battery is 14Ah x 86.4volt = 1209Wh usable energy! How compares that to the labeled 1800Wh? 600Wh less - NICE!

So from the chart its clearly visible that high current cell that has total 4500mah capacity has the same usable capacity untill 3.3 volts, but could deliver way more current, less voltage drop, so you will have more power.
Let's take a look if we ride faster like Gotway should be riden...
10A Test per cell => you get 40Amps current drained from the motherboard: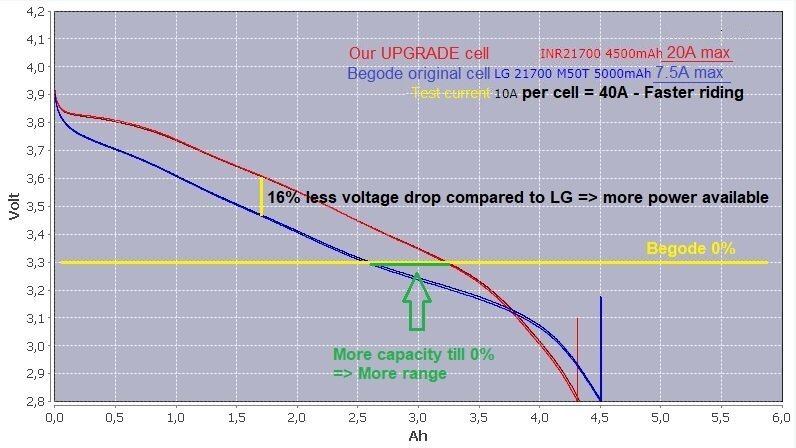 From the chart we see the LG batteries already failing to provide reasonable capacity and hold the voltage stable.
At that current you will get only 2.6Ah per LG cell so you will have 898Wh usable capacity... Contrary to LG, you can see that our 4500mAh high current cell will give you 3,3Ah which is 1140Wh total!
The other major difference is the voltage drop - LG cell drops more than 0.13 volts which is 24S x 0.13v = 3,12 volts total dropped more!!!
And 15A Test per cell => you get 60Amps current drained from the motherboard, which is the maximum power that you can use continously - keep in mind there could be peaks up to 80Amps, but for miliseconds.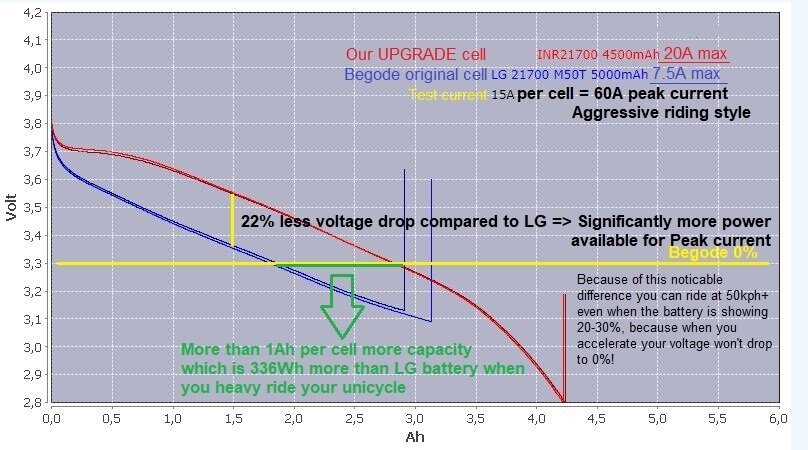 From the chart we see that with aggressive style of riding LG cells are total disaster...
1000mAh less capacity than 4500mAh cells!!!
You will get only 1800mAh usable capcity from the LG M50 cells => 1,8Ah x 4P= 7,2Ah x 86,4v = 622Wh .........

From our High current cells you will have 2.8Ah x 4P = 11,2Ah x 86,4v = 967Wh.
The voltage drop is about 0.2 volts per cell x 24S = 4,8 volts which are 22% less voltage drop (higher freespin => safer max speed) !!!
Now imagine you are riding at 30% battery and push the wheel really hard or hit a bump, which also is using a lot more power.
Your voltage with LG will drop to 0-10%, the wheel will beep at you and wont let you accelerate more, or even overpower it and cut off...

Wheel with high current cells will allow you to ride with 50km/h even at 20 - 25%, which also makes it way safer to ride, because when you are riding at 55 - 60km/h and you push the wheel hard with original cells your voltage will drop quickly. That means your freespin will also drop with that voltage drop and the wheel will cut on you way easier!!!
High Capacity cells are good only when there is enough space in the wheel to use more cells in order to dissipate the current better. Otherwise its way better to use High Current cells, even though the range could be little lower in some scenarios!
Using High capacity cells in high performance wheels is not good option, because the voltage drop will be very high - the cell will fail to deliver the power demands and you will experience low range even though the capacity is labeled high.
Its advisable to add additional battery to have better power delivery not only searching for the range.
This is not only valid for Begode, but KS S18... What were they thinking?
Thank you for you attention. Ride safe and keep that in mind when you ride harder!
From now on we will be offering battery upgrade and other tuning options.